Delivering superior printing and coating quality, Coatmate® is ideal for uniform, high quality surface finishes.
Offering superb coating and transfer characteristics on a range of materials including paper, plastic, metals and wood, Coatmate® is an ideal choice for coating, lacquering, varnishing, metering and printing.
With a high release version available, the unique properties of Coatmate® compounds ensure:
• Resistance to acids and alkalis
• Resistance to ketones, esters, steam, water and ozone
• High temperature resistance up to 140ºC
• A hardness range of 35-75 Shore A
• Micro finishing to low Ra values
Superior surface finish
• Maximises coating quality
Blemish free roll covering
• Pristine coating with no faults
Exceptional coating transfer
• Efficient, economical coating
Typical applications
A major breakthrough in coating technology! Used on Applicator Rollers and Metering Rollers, Coatmate® provides exceptional transfer characteristics.
The resistance to swelling provides outstanding dimensional stability enabling coating weights to be carefully controlled. The unique smooth surface produces high quality coatings on paper, film, aluminium and steel substrates.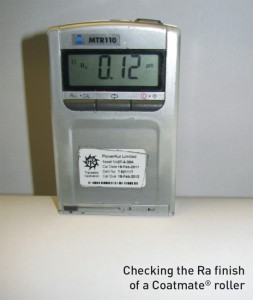 • Unique formulation allows manufacture of ultra high quality roll surface free from all flow marking and other defects
• Special surface chemistry delivers maximum efficiency, quality and economy for coating transfer
• 100% quality inspection of grinding and polishing of finished roller surfaces to less than 0.5 Ra
• Advanced micro finishing techniques available to produce even lower Ra values
Delivering Dynamic Solutions
Hardness range (Shore A): 35-75
Colour: White
Surface Finish: 5
Resilience to MEK and polar solvents: 5
Resistance to acid and wet chemicals: 5
Resilience: 4
Resistance to high temperature: 4
Tear Strength: 3
Abrasion: 3
where 1= poor, 5= excellent
For further information on our services please call +44 (0)1633 869436 or fill out the form below.
Got a question about Coatmate®?
Please fill out this form and we'll get back to you as soon as we possibly can.